Something heartwarming to start the day.
Times of London reports
on a woman who saves abused animals in Cali, Columbia.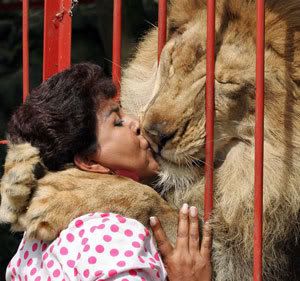 Ana Julia Torres snuggles up to Jupiter the African lion she rescued from a circus six years ago.
(Inaldo Perez/AP)
UPDATE: Falafel man linked my "Lion Kiss" as his "
Most Ridiculous of the Day
"
ah, the smell of greasepaint...